Makers of the World's Nicest Badges
Standard Name Badges
Our line of Standard Name Badges are built to last at an affordable price. Many color options are available.
Request a Free Name Badge Digital Proof/Mockup
Quantity Pricing
Quantity
1-9
10-24
25-49
50-99
100-249
250-499
500+
Discount
0%
7%
15%
20%
25%
35%
Call for Discount
Standard Badge
$9.25 ea.
$8.64 ea.
$7.94 ea.
$7.50 ea.
$7.06 ea.
$6.19 ea.
Call for Price
Discount based on quantity ordered annually.
Price includes logo, name, and pin fastener.
Badge options chosen during checkout may affect price.
NiceGuard Protection
NiceGuard is an extremely durable poly-resin coating that we can apply to badges. This adds a level of durability and class that non-coated badges can't match. NiceGuard is self-healing, meaning it does not dent, it simply rebounds. NiceGuard is guaranteed not to cloud or yellow.
Available Fasteners Options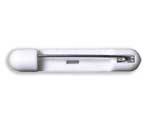 Pin Fastener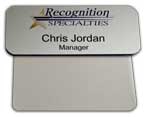 Pocket Insert Fastener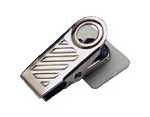 Bulldog Fastener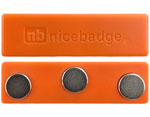 Super Magnetic Fastener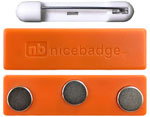 Pin & Super Magnetic Fastener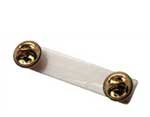 Military Double Post Bar w/ Clutch